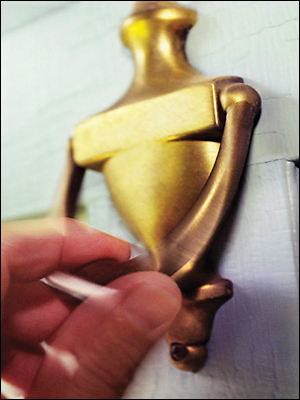 Imagine traipsing cold dark empty streets in the depths of winter, luring sane people from the warmth of their lounge in front of the fire and trying to convince them to buy… something. This was a period of my life, which though hardly glamorous, was surprisingly educational.
It was my fault. I had deliberately put myself here. I had a theory. If I could sell stuff door to door, then I could sell anything. It was also a crash course to harden the hell up and stop worrying what people think.
I want to save you knocking from having to knock on hundreds of doors (and two or three pairs of shoes), Here are 5 tips I learnt from doors sales, that you can use to market your business on the web.
1. Grab attention in 7 secs
As a door salesman, the person answering the door is already planning how they close the door before you even say hello. You need to grab their attention in 7 seconds or less. You need to have the best one-liner you've ever come up with. No second chances. If it doesn't break their pattern and make them listen to what you are saying.. they will slam the door in your face.. If you are lucky. If you're not lucky, they'll let you talk for five minutes before making an excuse to slam the door in your face.
On the web you've got the same problem. Your visitors are likely stumbling around the web like cyber-goldfish. You need a jaw-dropping headline that makes the reader stop and think, "wow, that's exactly what I didn't know I needed".
2. Tell a story they can connect with
Telling a story keeps the person engaged and listening to what you are saying. If it is good enough to make them want to know what happens in the end, they'll let you keep talking.
You need to pull them into the story. It's really about them. Their problems, their hopes and dreams and their view of themselves.
A story works on the web as well. I know, this seems crazy and completely at odds with the idea of short attention spans and…. for goodness sake, don't make them scroll. But if the story is good enough, they have to keep reading to find out what happens at the end. and how it all relates to them.
There is an excellent example of a woman in the US who sold a baseball on ebay for US$1125.00. And all she did was tell the whole story of how how her kids smashed a light with the baseball kicking off the day from hell. The story was so good because it was something every parent can relate to.
3. Benefits
Back on the doorstep, I needed to give some incredibly compelling reasons why the person to buy from me right then. The best reasons give quantify-able results Otherwise known as benefits.
Your story needs to be packed with benefits. – Using highly specific examples to highlight your benefits makes them more compelling.
4. Everyone else is doing it
Social proof…. I know what you are thinking. How can you use social proof when you are standing in the cold. Alone.
Here's how it works…
"Do you know your neighbour? Ron, next door? – Yes
He decide to pick up two of these turtle scrubbers. One for himself and one for his son who has just bought his first turtle.
Give them ideas on how they can use your products or a reason to buy them (holidays, birthdays,).
On your website, this is a thousand times easier. Showcasing glowing testimonials on your website is a must. Text, images, audio all work, but video knocks it out of the park.
5. Make an irresistible offer
Selling door to door, you've got to get the sale before they close the door or you don't get paid. Your website has a few more options than that. But even if your website is designed to provide customer support or just information, you need to get your visitor to take some action. You've done the hard work, now you need the pay off.
The first rule is to make them an irresistible offer. Either 'order now and we'll throw in this unbelievable bonus', or sign up for this free report. The options are endless.
Assume the sale – They've just spent their time finding out more information about your products, and you've told them how great they are. Now you need to tell them what you want them to do next.
How many of these tips are you using on your website?
---
Be cool and share this on Facebook, Twitter or with someone that'll get some value from it. Everyone else is doing it.
Thanks