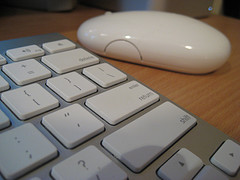 I recently wrote a post how to get the best from your graphic designer. This post takes the same stance with web design.
As with Graphic Design, effective communication, along with preparation is key to working well with a web designer and getting the best results. A little planning and education go a long way to ending with a site that looks great, and promotes your business effectively.
Here is a checklist to make sure you stay on track to a great website.
1. Know why you are investing in this website
What is the purpose of your website for your business?
Deciding this is actually easy. There are only a handful of things that a website can do.
Lead generation for offline sales
Supporting information for offline sales
Provide content to position yourself (or business) as the expert in your field
Online sales – make the sale and take the money
Explaining exactly what you want your website to do for you is critical to getting a great end result.
If on the other hand, you are building a site purely to tick the 'we have a website' box, then run out and get the simplest website you can as cheap as possible. At least people will find something if they look for you online.
2. Who are your visitors going to be and how can you help them?
What will your site offer your visitors?
You absolutely MUST know what you are offering your visitor to your site and why they are there so you can give them right information.
Visitors to your website are there because they have a problem or at least they have a question. You need to have a good idea of what that problem or question is, and answer it for them as soon as possible, or at least, show that your business can solve it for them
Any successful website includes a strong call-to-action, and it is much easier to convince someone to take an action if they want to do it already.
3. Get inspired
Here's a license to muck around on the web for a while. Spend some time bookmarking some websites you like the look and feel of. Surf around for sites inside and outside of your industry.
It is great for you to get an idea of what you like and what you don't like, and be able to discuss them with your designer. Your designer is never (hopefully) going to copy these sites. But it is a great to get an insight into how you view your business.
4. Simple Keyword research
You need people to find your website. Ideally, they will be people who are interested in your products or services. To do some simple research into keywords, you need to jump back on Google.
I recommend searching for your products or services in another large city, maybe in the US or the UK. Take a note of all the search terms you use. Also scroll to the bottom of the results and note the 'related searches' suggested by Google. They are recommended for a reason – because they are popular terms others are searching for.
Ideally, your web designer will do more exhaustive research than this, but it is excellent to have a place to start from.
5. Take ownership of the content
All too often, the content is left to last, after everyone is happy with how the website is going to look.
Content is King…
The words and images of your website are what speak to your visitor, answer your visitor's questions, solve their problems and they are what sell to the visitor.
Your web designer can guide you through what content you need and help make the copy web friendly (or recommend a professional copy writer). But the original content needs to come from the industry expert (that's you). You know your business better than your Web designer…
6. Collate your resources
Create a folder with all of your current branding and resources. Your website designer is going to need copies of your company branding (logo etc), and standard imagery you use.
Examples of your current promotional materials are excellent for a designer to ensure the web design is consistent with your current branding. While it is nice to have the latest in website design, it needs to be consistent with your total brand.
7. Keep the lines of communication open
You should be getting regular progress updates from your designer throughout the process. Constructive criticism is important to a successful end result. Give opinions early, even (especially) negative ones. It is much easier to make broad changes earlier in the process than towards the end.
Making decisions quickly will prevent the project from getting stale. If you have a larger organisation, make sure one or at most two people have the authority to make the calls when they are needed.
Conclusion
A website is an integral part of marketing in todays business environment. To get your business represented in the best light on the internet you need to have a good relationship with your web designer. As I mentioned, earlier, clear communication and a little preparation help the process run a lot smoother. Helping your designer understand your business and your goals is a great place to start.
photo credit: mecookie