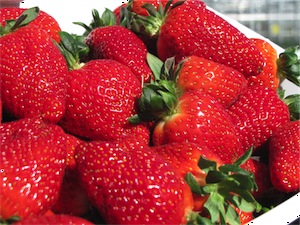 Once upon a time, not so long ago, I was a Strawberry Farmer.
As with most horticulture businesses, I had a hand in every part of the operation, which was great for understanding the whole picture of running a business.
Some parts of the business I am glad to be finished with, such as getting up and starting work at 6am (and finishing at 6pm). But I really enjoyed the grass roots marketing of the berries.
Talking to customers, working out pricing (which changes daily in the fruit and vege game), and coming up with marketing strategies and promotions. this was the interesting stuff for me.
I recently got a lesson in PR from Mary and Ian who are now running the Farm
It is funny how when you are busy running around in your business sometimes you miss the "slap myself in the head" obvious stuff.
The beginning of last season, the strawberry packing team weighed in a monster Strawberry at 78 grams. That's a pretty big strawberry… Three of those and you've filled an average punnet.
Super impressed with their 78g berry, Mary mentioned it to a local reporter… And just like that, they had a story run in the local Newspaper.
How is that for publicity?
But it gets even better… The local newspaper is part of the Fairfax media group here in New Zealand, and it must have been a slow News week because before you new it, Fairfax papers republished the story throughout the country.
Seriously… National exposure of their strawberries, just because they grew a large strawberry.
Funny thing is, Monster strawberries are pain in the arse… I know because, here's the kicker, when I was running the show, our record was 105 grams!!!!
That's about the size of a small apple.
But here's the thing. When we weighed our mega-berry, we thought, that's cool, we showed it to a handful of customers, and then gave it away (or ate it, I can't remember). That was it!
What's the lesson?
If you find something in your business that you think is cool, somebody else probably does as well. Don't assume that no-one else cares. Ask them to find out.
Ok, sure, if I had told a friendly reporter about our 105g strawberry, it's possible they would have said, "so what". And obviously you won't necessarily get massive exposure – but you might!
When it comes to marketing and publicity, sometimes it is hard to know what will strike a cord and take off. Take the "double rainbow" guy on YouTube… Who would have thought that would get 24.7 million views?
With Social media, you can publish things with a couple of clicks
Publishing news (or stories and quirks) about your business online is as simple as a few clicks, and while it might not make you front page news, they might just get you front of mind with some potential customers. And what can be more valuable than that?